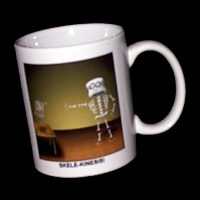 Ok, so it's not a real store...but surely by now you've heard of CafePress? Basically, I upload ultra-high resolution images to them, and they print them onto high quality merchandise! They're very professional, well-known, and safe to use. And if you can't find something you want, just let me know and I'll create it. :)
Buy a mug! Scare your friends! EEEAAAH!!!
Click here to get an error message because the store is closed. If you really, really, want something, drop me a line.
All major credit cards accepted. PayPal too!